We make TV channel lineups for both Canadian and American viewers of cable, satellite and streaming TV.  This webpage is for Canadian viewers (USA viewers click here).
Surprisingly, it's very difficult finding printable, up to date and accurate TV channel listings online.  Many are not print-friendly, some are so massive and full of white space that we would feel guilty for wasting so much paper.  We're here to make life easier so we can see what we pay for… TV channels in a well organized, printable list.
In Canada, we have channel listings for Rogers, Bell, Shaw and VMedia customers.  Simply download and print your free PDF channel lineup.  If you don't see your guide, just let us know and we'll make it, free of charge!
Our TV channel lineup guides have different versions and formats.  Some are "complete", some are "edited" (intermediate) whilst others are "short" lists.  This helps reduce paper wastage.   For instance, since international channels take up a lot of page space, they are omitted in the edited and short versions.  We also provide HD (high-definition) and sports channels listings for several TV providers.
For best results, use thick-stock paper, either gloss or matte finish.  Spend a few 💰 if you can.  It's worth it!
THOUGHTFUL GIFT!
As an alternative, you could request us to print and mail you a hardcopy channel guide.  These smart looking beauties are printed in high quality on top-notch paper and bound in fancy linen-weave covers!  ($20 CAD charge applies for Canadian customers.)  To order, just send us an email request.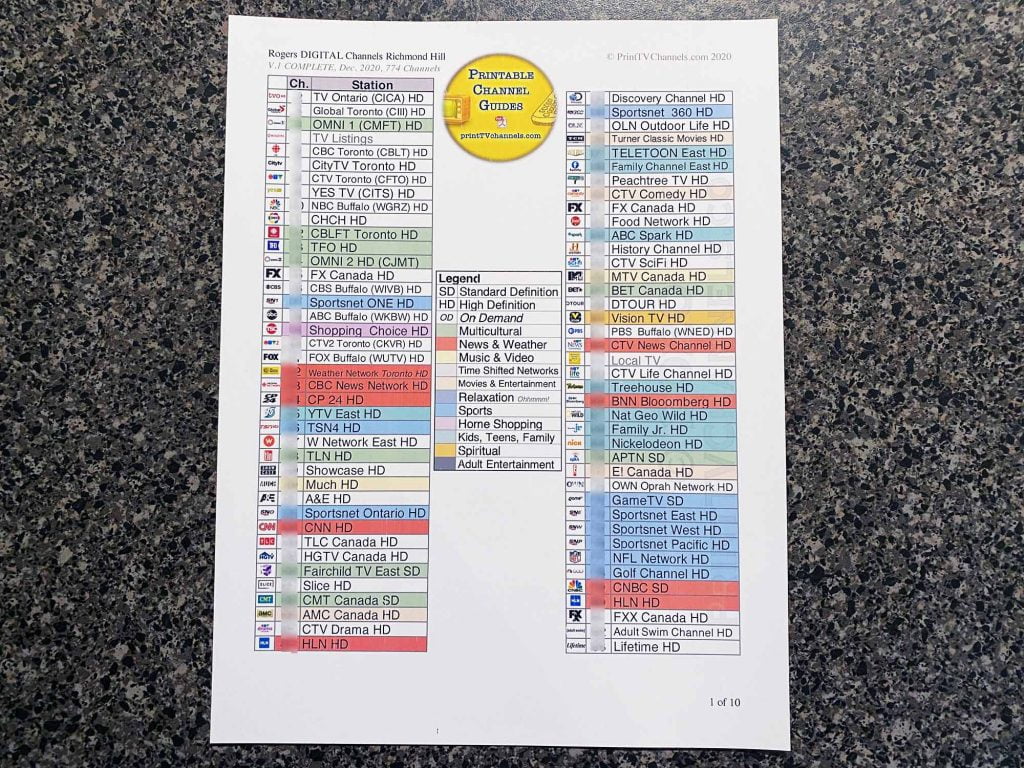 Advertising opportunities are available. Please contact us.  
We are not associated with any TV provider.
All guides are free of charge.
Follow us!  We don't bite ya know?
These social links below will add us to your social media accounts (to follow us).  But the bar on the left side of the page is different.  Those social links offer a way to share our awesome website with others.  Either way, you can help us grow our online credibility and would be appreciated if you did.  Just being honest.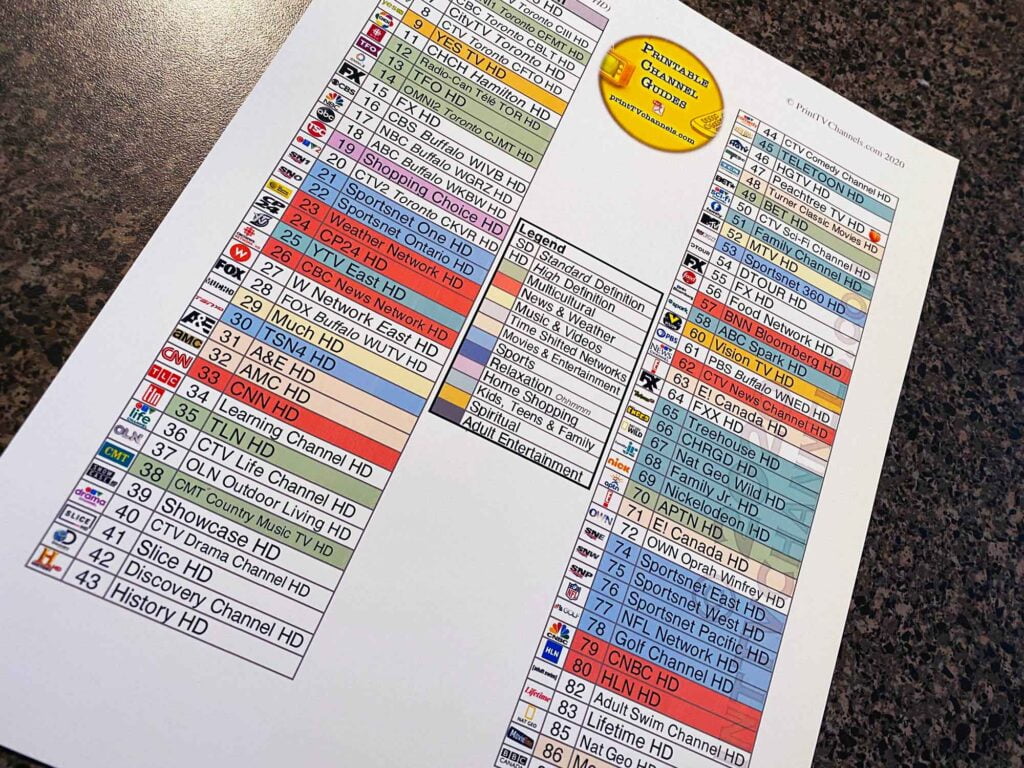 Our channel guides are simple and useful, especially when there's hundreds of TV stations to pour through.  See what we pay for!
Channel Counts by Canadian TV Providers
Channel you payed for BUT didn't know you had is TOO MANY
Duplicate/triplicate channels have been removed from these counts
We exist because it's next to impossible finding a TV channel guide that is arranged both numerically and alphabetically, up-to-date, printer friendly (with large font size) and includes TV network logos.  Many, if not most, are outdated and disorganized.  Simply put, ours are the best.  Our colour coded TV channel lineups are well organized, up-to-date documents.  Colour coding as well as emojis help organize the guides and easily find TV stations.

Our printer-friendly TV channel lineup guides are available as PDF files that are free to download.  They are lists of TV stations with corresponding channel numbers in a simple table format (spreadsheet style).  
A tablet is a very useful device and so are the Rogers and Bell apps that can be used to surf your channels using a smartphone or tablet.  However, with nearly one thousand stations in the entire linup (with lots of duplicates), it's not easy gaining a sense of the channel distribution let alone to find a station.  Our PDFs are searchable, meaning, channels can be found simply by entering its name or number into your PDF viewer's Find or Search field.
With crisp, high-resolution TV network logos along with alphabetic/numeric organization, these features make it easy to find stations and gain a better sense of channel distributions.   We have the answer when your question is, "What channel is Station X on Provider Y?"   
We work hard to ensure all channel lineup guides are accurate, up to date and easily printed.  Information is gathered from at least three separate sources for each one and then cross-referenced.  You'd be surprised how even big TV providers themselves sometimes fail to publish accurate channel lists.  Finally, we rank the top TV stations in in every guide we compile ("#1 fav" for example).  Criteria include  programming creativity, originality and educational value.  Such rankings are just our opinion and we're open to debate anytime. 🙂 
If you don't see your guide, just let us know and we'll make your own PDF, free of charge.  
To find your guide, click your TV provider's logo above or see below.
 (Or, keep a-scrollin' down using the dots to the right for good clean fun)
Shaw Direct SATELLITE Channel Guides
Showing the single result
Showing the single result