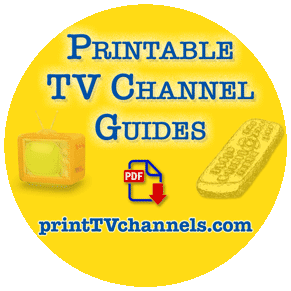 Get to know your channel lineup!
Download and either print or simply use your new Bell FIBE channel guide on your living room tablet.  These are print AND search-friendly PDFs.  No messing around!   They allow us to see ALL the channels as opposed to the zoomed-in version seen on our TVs or tablets.  "Search friendly" PDF means that TV channels can be searched using your PDF viewer's Find or Search box.
Our guides are well organized and up-to-date documents.  They're arranged by channel number, colour coded by genre and have high resolution TV station logos making it easy to find channels.  Once you have a look at our guides, you'll quickly appreciate a lot of work went into making these!
See What You Pay For, I say
Download and print your own channel guide.  Or, have us do it for you.  We'll professionally print, bind and mail you this hardcopy wrapped in fancy blue linen-weave covers*.  (*$30 charge applies)  Contact us to order.
Printable Bell FIBE Channel Guides
The Toronto guide can be used for all customers in Metro Toronto, Scarborough, Richmond Hill, Vaughan, Aurora, Newmarket, Markham, Pickering, Uxbridge, Burlington, Barrie, Hamilton, St. Catherines and Niagara Falls.
We offer various versions:
COMPLETE (full):  13 pages long and includes 943 channels (309 of which are HD/4K)
EDITED (intermediate):  International channels omitted.  Is 9 pages long with 694 channels (293 HD/4K)
HD/4K+

:  6 pages with 309 HD/4K stations

PLUS

"SD-only" channels.  This version avoids

 SD/HD duplicates

BOUND HARDCOPY:  We print and 

bind your guide in smart blue linen protective covers.  Then we mail it to you
For best results when printing, use thicker paper with a gloss or matte finish.  
**All guides are FREE to download.  No strings attached!  (except we'd love a Google review!)