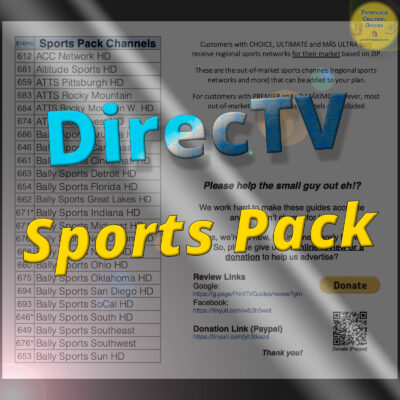 DirecTV Sports Pack, Premium Movies and Package Comparison PDF
Free!
DirecTV Sports Package Channels, Other Add-ons & Base Plan Comparison
DirecTV Sports Pack, Premium Movie packs, Movies Extra Pack, Deportes and specialty channels are listed in this free, printable PDF.  It shows which channels are in HBO Max.  The DTV Sports Pack channel lineup includes regional sports and some nationwide sports networks.
Description
Additional information
Reviews (0)
Description
Add-On Channels and DirecTV Packages PDF 2022:
DirecTV Sports Package and Regional Sports Networks, DirecTV Movies & Movies Extra Pack Channels, and DirecTV HBO Max, Showtime, Starz, Cinemax and Epix Stations,
all in a single PDF
(v.1, March 2022)
DirecTV Sports Pack channels along with premium movie and specialty channels are included in this multipurpose document.  This printable PDF is free to download.  Its purpose is to show you which add-on channels are available for DirecTV.  It also compares the four main DirecTV packages (plans) by their sports and premium movie channels.
This free PDF contains the following DirecTV channel lists:
Which sports and premium movie channels are in the Entertainment, Choice, Ultimate and Premier plans
Sports Pack channels list (regional sports networks and some national stations)
Deportes (Spanish language) pack channels
Movies Extra Pack channels
Premium movie channels

DirecTV HBO Max channels and extras (including HBO Go® and streaming library).  Note:  HBO Max is not a separate TV station.  Rather, it's a package that includes HBO®, HBO Family® and HBO Latino® on DTV.
Showtime ®, Starz, Cinemax and Epix channel lists

DirecTV specialty channels
So, what's included in the DirecTV Sports Pack?
It took quite a bit of effort finding the exact channels, but we got the entire DTV sports pack stations listed in this PDF.  The DirecTV Sports Pack includes regional sports networks as well as some national sports channels (e.g., CBS Sports, ESPN College Extra and Outdoor Channel amongst others). It is meant for people not living in the market area of their favorite sports teams.
The Direct TV Sports Pack is an add-on package for $14/month that allows you to follow your team when you're not living in your team's area and don't have the Premier package (which gives access to most out-of-market regional sports networks). It's for those people with the DirecTV Entertainment, Choice and Ultimate packages.
Sports Pack Channel Snippet:
Here's a partial list of the 40+ DirecTV Sports Pack channels.  You will notice most are regional sports networks but there's also some nationwide sports channels (in bold).  To see the full list, just download this PDF and voila! [Pronounced with a vee by the way.  Why do people say "walaa" anyhow? ;0) ]
DirecTV Sports Pack Examples:
ACC Network HD
Altitude Sports HD
AT&T Sports Channels
Bally Sports Channels
CBS Sports Network HD
ESPN Classic
ESPN College Extra HD
FOX College Sports Channels
Longhorn Network HD  🐂
MASN
MSG
NBC Sports Channels
NESN
Next Level Sports HD (NXT Lvl Sports)
Outdoor Channel HD  🏕
Root Sports
Spectrum SportsNet Channels
TUDN  ⚽️
And more!
bold: National sports networks
See our other Printable DirecTV Channel Guides for more:
Helpful External DTV Web Links:
To see a printable PDF with a side-by-side comparison of DirecTV packages, go here
To view the DirecTV live channel guide of TV shows, go here
For an out of date description of the DirecTV Sports Pack channels, go to the DirecTV support page here [just checking you're still awake ;)]
---
Disclosures
We are not affiliated with DirecTV, DISH Network or any other TV provider.  We're here to make life easier by seeing what we pay for!
Additional information
| | |
| --- | --- |
| Brand | Printable TV Channel Guides |
---
Only logged in customers who have purchased this product may leave a review.