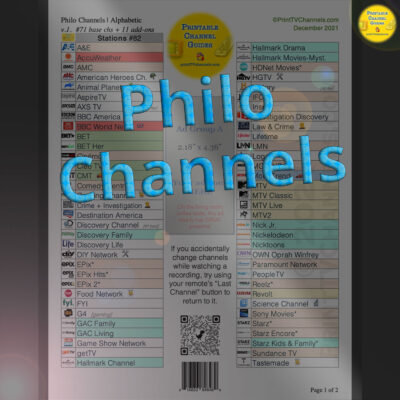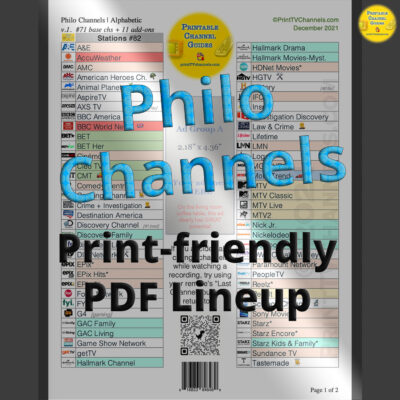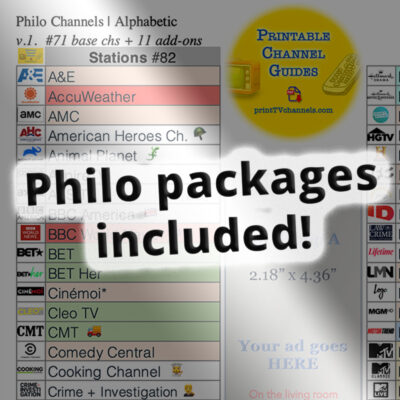 Philo Channels Lineup and Philo Packages
Free!
Philo Channels Lineup (v.1. Dec. 2021) — Printable Philo TV channel list in alphabetical order.  Free PDF download.  Includes 71 "base" stations and 11 add-ons.  Although there are no local Philo channels and virtually no sports networks, there's plenty of movie stations (especially with the movie pack add-ons).
Description
Additional information
Reviews (0)
Description
Philo TV Channels Guide (v.1. December 2021)
Philo channels lineup of all stations in a color coded channel table. Organized alphabetically by TV station name. Includes all movie add-ons ("Movies and More", Epix, Starz).  This print friendly document is a free PDF file for download.  Either print it out (preferably on thicker, matte printer paper) or just keep on your devices.
Features of our Philo Channel List:
Alphabetical listing of all 71 "base" channels, including 7 free TV stations (Bloomberg Television, Cheddar News, Revry and more)
Stations are color coded by genre (e.g. red for news and weather, tan for movie stations and comedy, etc.)
High resolution TV station logos and emojis also help to easily find channels
Available "add-ons" are included:  "Movies and More" (5 stations), Epix (3 stations), Starz (3 stations)
Notes about Philo Channels
The biggest drawbacks are lack of Philo local channels (ABC, CBS, NBC, Fox, CW) and virtually no sports stations other than Motortrend. However, the benefits are lower price than say Hulu and lots of movie stations.
Philo TV Packages – Movie Stations Only
The "base" movie networks (ones available without add-ons) include Hallmark Channel, Hallmark Drama, Hallmark Movies and Mysteries, IFC, LMN, Paramount Network and Sundance TV.  Add-ons include Cinémoi (English language despite the name), Epix 1 and 2, Epix Hits,  HDNet Movies, MGM HD, Reelz, Sony Movies, Starz, Starz Encore and Starz Kids and Family.
Helpful External Links about Philo
https://help.philo.com/channel-lineup/ — See the channel lineup itself on Philo.  The problem is the list is not print-friendly.  Also, the TV station logos are all blue.
https://www.tomsguide.com/news/philo-cut-the-cord-diary-pros-cons — Good review on the pros and cons of Philo TV.  Dated September 18, 2021.
https://help.philo.com/using-philo/devices — List of all devices that Philo can be accessed on.  From Philo Help pages.
Top Viewed Stations on Philo
Philo TV Top 50 Stations
A&E
AMC
BET
BET Her
Bloomberg Television
Cheddar News
Comedy Central
Cooking Channel 👩‍🍳
Discovery Channel [#1 best]
Discovery Family
Discovery Life
DIY Network 🛠
EPix*
EPix Hits*
EPix 2*
Food Network 👩‍🍳
GAC Family
GAC Living
Hallmark Channel
Hallmark Drama
Hallmark Movies-Myst.
HGTV 🛠
History [#2 fav]
IFC
Insp
Investigation Discovery
Lifetime
LMN
MGM HD*
MTV [#3 fav]
MTV Classic
MTV Live
MTV2
OWN Oprah Winfrey
Paramount Network
pocket.watch
Revry 🏳️‍🌈
Science Channel 🔬
Sony Movies*
Starz Encore*
Starz Kids & Family*
Starz*
Sundance TV
TLC
Travel Channel 🛩
TV Land
TV One
UP tv
VH1
WEtv Women's Ent.
Legend
* Add-on Channels
Multicultural
News & Weather
Movies & Entertainment
Music & Videos
Sports
Kids, Teens & Family
Our Links to Other Streaming Providers (Channel Lineups):
Additional information
| | |
| --- | --- |
| Brand | Printable TV Channel Guides |
---
Only logged in customers who have purchased this product may leave a review.