Making Sense of Rogers Ignite TV Packages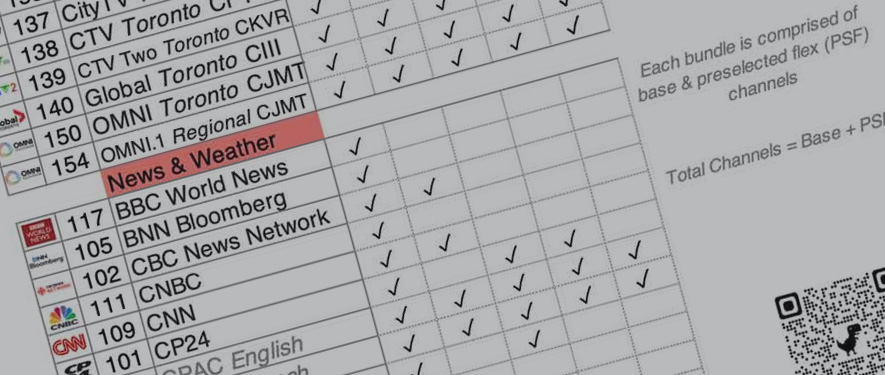 Understanding Rogers Ignite bundles and channels is difficult.  So here's our explanation starting with the bundles and ending with the various Ignite TV packages.
Rogers Ignite comes in a bundle.  This includes a set-top Ignite digital TV box along with internet (modem/wifi hub) and a home phone plan (optional).  A major advantage of this technology is it works over wifi and eliminates the need for messy coaxial TV cables.  In addition, the Ignite TV remote can be voice-prompted to search for channels and more.  
Then there's the Rogers Ignite TV packages (also called bundles).  As of January 2022, these include "Ignite Premier", "Flex 20 + Sports", "Flex 10" and "Flex 5".  The number and types of channels vary for each. 
For example, Ignite Premier has roughly 120 total stations (exact number varies based on location).  This includes both "base channels" and 87 "preselected flex" channels (only the latter can be exchanged).   Flex channels can be exchanged from a pool of 48 more channels for this particular bundle ("available flex" stations).  Finally, flex stations can be changed every month.
[To see the channel lineups compared side-to-side, see our Master List – Ignite TV Channels Comparison Guide, which is free to download.]
[To see each Ignite package individually, see our Rogers Ignite TV Channel Guides.]
Total Channels = Base + Flex Channels
Ignite TV Flex Channel Tables
As oppposed to our Ignite Channel GUIDES (which list TV stations with channel numbers and are helpful for day-to-day use), our Ignite Channel TABLES, found below, are most helpful when choosing Flex channels. Flex channels are listed in colour coded format: Preselected Flex (PSF) and Available Flex (AF).
The Ignite Channel TABLES do not vary based on geographic region.  Channel numbers are not included.  Their purpose is to simply see the flex channel lineups.  It's best to download both our Ignite TV channel lineup guides and the tables.
NOTES — Definitions and Clarification of the Rogers Ignite Website Info on Flex Bundles
The Rogers website is helpful but confusing when it comes to Ignite bundles.  Below are a few key points to better understand the terminology regarding Ignite Flex bundles channels on the Rogers Ignite webpage (as seen under the "Channels" tab).
Flex Channels are a collection of flexible channel choices we can exchange, in or out, regularly to customize our TV station lineup.
Preselected vs. Available Flex Channels: Rogers pre-selects the most popular Flex channels included with each bundle.  These can be exchanged with available Flex channels on a monthly basis.
"Flex Channel Included" means that channel is included (preselected) in a particular Flex bundle.
"Flex Channel" refers to a station that isn't included in the bundle but is available by exchanging it with a preselected Flex channel in the package. In other words, it is an Available Flex channel.
Theme Pack Channels: Can be added to your flex bundle.  Generally, such channels aren't included in the preselected or available channels. 
Ignite Channel GUIDE downloads:
Rogers has a wide variety of add-on channels available as "Theme Packs". From Bollywood Dance Pack to various sports, movie and entertainment packages, there is something for everyone.
Recently, all the major American broadcast networks were split off from the primary Rogers TV plans. However, they're available now under the "Prime Time Pack" for $3 per month (that sucks). Prime Time Pack channels include ABC, CBS, NBC, FOX and PBS.
There are two options we have to make it easy seeing the Rogers Theme Pack channels:
The four images below are "jpeg" images that can be downloaded and printed (as a list of the TV station icons).
The same information can be downloaded as a printable PDF listing (spreadsheet-style text) that's easiest on the eyes to work with.
Pricing was taken from Rogers.com  and is subject to change.

Please bear with us
If you're confused by the info above, please let us know. We're here to help you better understand the Rogers Ignite TV packages. Please email us at admin@printTVchannels.com for any questions or concerns. We like feedback and we like to chat!
Thank you!