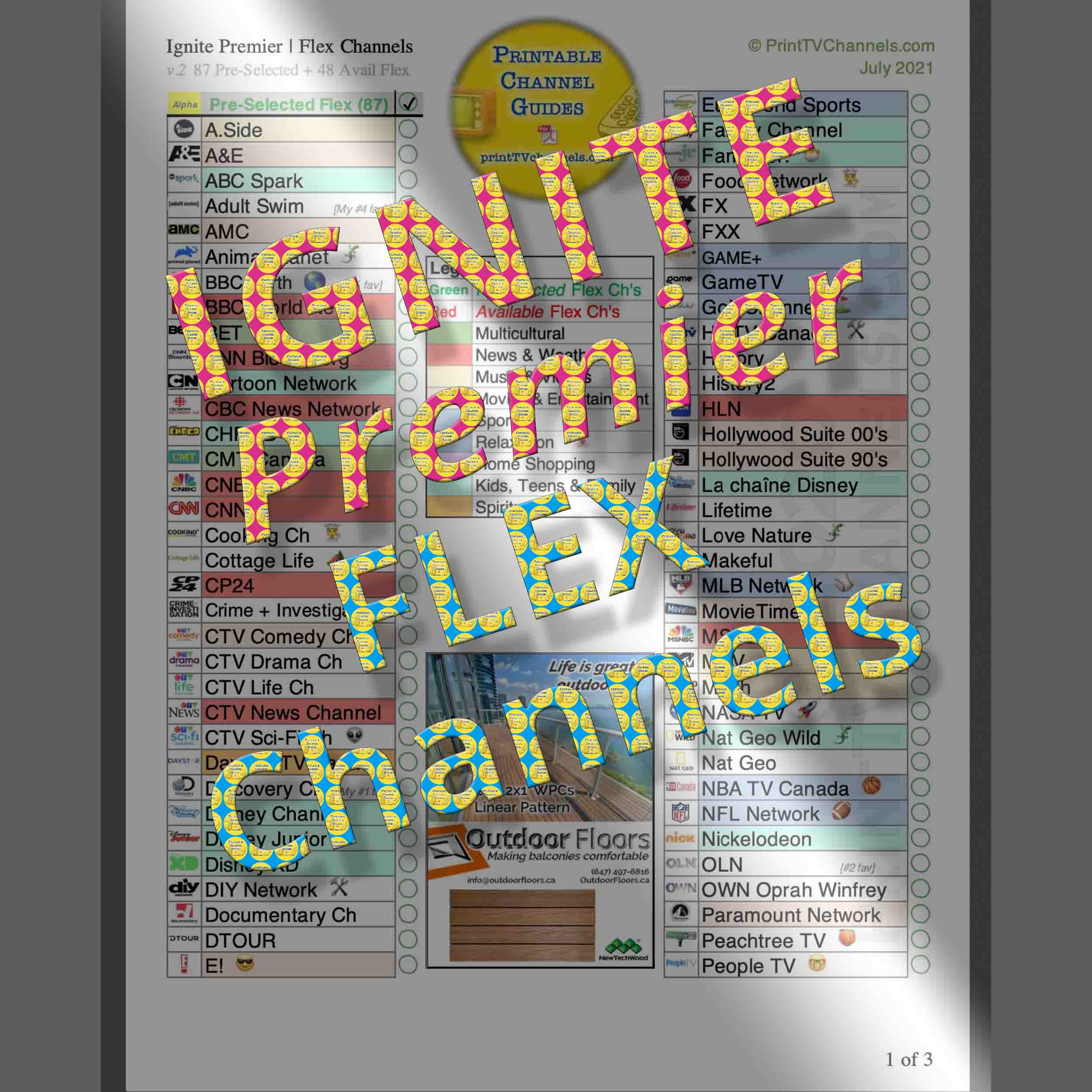 Ignite Flex Channel Table | Premier Bundle
Ignite Flex Channels | Premier Bundle
Free printable PDF channel listing of all Flex channels for Rogers Ignite PREMIER bundle subscribers.  Allows us to keep track of all the channels.  In Toronto, this Rogers bundle has a total of 120 channels, of which, 87 are "Flex" channels.  Minor differences only from one location to another, so this guide can be used despite your location being other than Toronto.
Pre-selected Flex channels can be substituted with a choice of 48 additional ("available") Flex channels in this package to reach a maximum of 87 channels in Toronto (numbers are similar elsewhere).  To see the base channels along with all Flex channels for Toronto in a single document, check out our Rogers Ignite | PREMIER Channel Guide | TORONTO.
Ignite Flex channels in the Premier Bundle vary greatly in genre.  This colour coded channel guide makes it easy to find channels.  Sports fans will appreciate NBA TV, NFL Network and MLB Network in addition to the series of TSN and Roger's Sportsnet channels (all of which come preselected).  Fox News Channel, Leafs Nation, Discovery Science, Velocity as well as a slew of French language channels come as available flex channels to choose from.
This guide was created (v.2) late July 2021.  For an authoritative listing of the latest Flex channels, check out the Rogers website under "Ignite IPTV Bundles" (or just click blue link).  We are not affiliated with Rogers or any other TV or IPTV provider.  We are based in Toronto, ON.  For special requests or feedback please contact us.