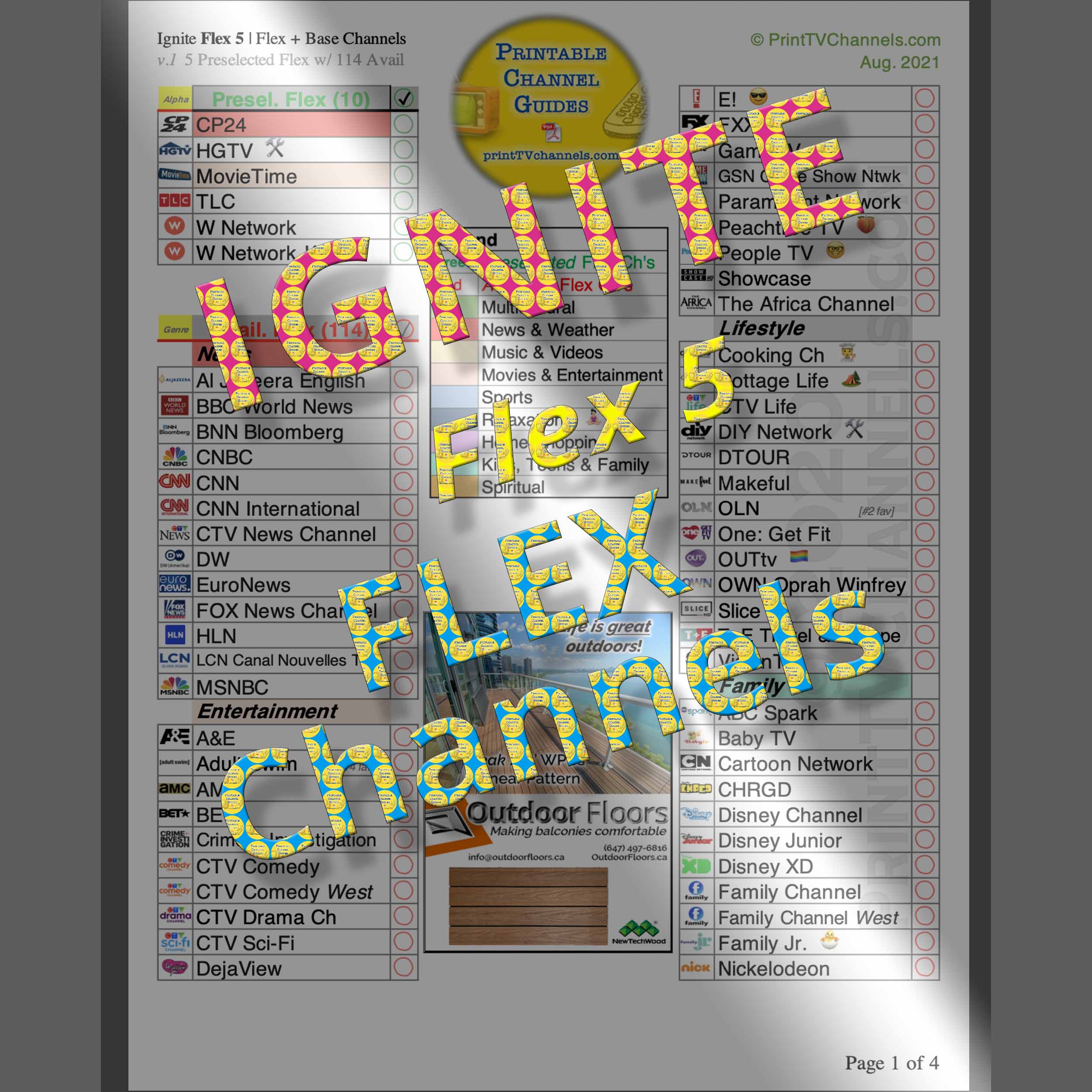 Ignite Flex Channel Table | Flex 5 Bundle
Ignite Flex Channels | Flex 5 Bundle (Aug. 2021)
Free printable PDF channel listing of all flex channels for Rogers Ignite Flex 5 bundle.  Allows us to keep track of all the TV stations.  In Toronto, this Rogers package bundle has a total of 37 channels, of which, 5 are flex channels.  [Minor differences in channel numbers exist from one geographic location to another, but this guide is still helpful as a reference.]
Read more
For Toronto residents,
Pre-selected
Flex channels can be substituted with a choice of 114 additional ("
available
") Flex channels in this package to reach a maximum of 37 channels (numbers are similar for other regions).  To see the
base channels
along with all Flex channels in one, single document, check out our
Rogers Ignite Master Channel Guide
.
 Phew, this is complicated eh?  Not really but it's tiring and time consuming for us.  
This guide was created (v.2) August 2021.  For an authoritative listing of the latest Flex channels, check out the Rogers website under "Ignite IPTV Bundles" (or just click blue link).  We are not affiliated with Rogers or any other TV or IPTV provider.  We are based in Toronto, ON.  For special requests or feedback please contact us.  
[Note: Once you click "Download", the file will automatically be downloaded to your computer.  On Mac computers, be sure to check your downloads folder]
Published:
August 20, 2021